Stunning Balcony Balustrades
In recent years, balcony balustrades have witnessed a fairly radical shift in appreciation and perception. Thought to be one of the least remarkable areas, choices were usually limited to industrial-looking, framed balustrade systems.
Over the years, and coinciding with plummeting costs of frameless structural glass, attitudes and selections have changed, somewhat drastically. These days, it's not unusual anymore to find the balconies of most structures in any area sporting the timelessly simple design of frameless structural glass balustrades.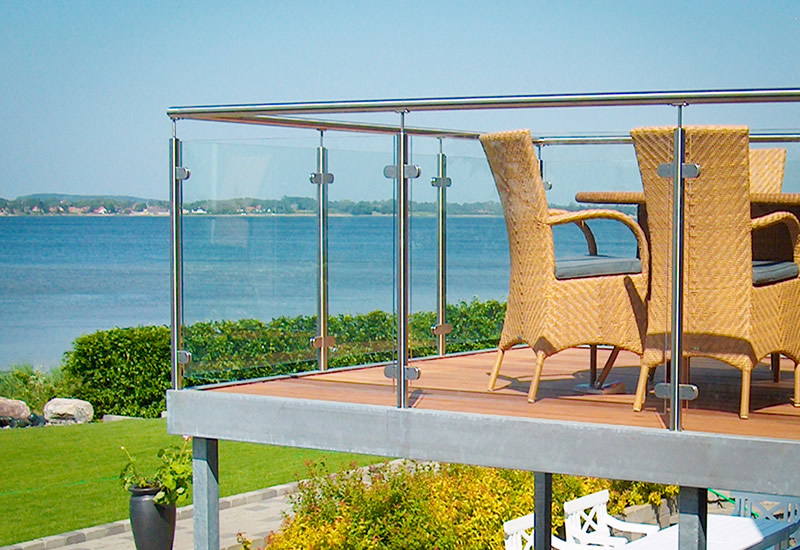 At EasyFix Balustrades, we can help deliver your choice of balcony balustrades to utmost specifications, irrespective of whether you want to stick with traditional framed balcony balustrades or you want to go with the more modern frameless balustrades. Depending on your choice, here are the options open to you:
Framed Balcony Balustrades
Framed balustrades traditionally sport metal posts and uprights to support the structural load. Vertical bar balustrades are the most common examples of framed balcony balustrades, and they used to be known primarily for their functional and protective features, particularly in homes with small children and pets. These days, vertical bar balustrades are also very highly regarded for their style.
Framed balcony balustrades used to feature entirely metal components, but these days, stainless steel and glass balustrades are more common. No matter what option you choose, framed balcony balustrades offer a cost-effective way for the entire family to enjoy the views without worrying about safety.
Frameless Balcony Balustrades
With their modern, minimalist outlook and design, frameless balcony balustrades have made their way into the mainstream, helped in no small part by media promotions such as Grand Designs etc. Frameless balcony balustrades provide unobstructed views from the balcony and bring the whistling noise made by the wind down to a minimum.
Although frameless structural glass balustrades are pretty safe, it's important to take particular care when installing them, to ensure that they meet up with safety standards. First and foremost, the base fixing needs to be solid enough to handle the weight of occupants of the building. Secondly, the glass has to at least meet the minimum requirements for loading, impact, and deflection, not to mention provide safety to both occupants of the building and people milling about under the structure. Current regulations, specify that structural glass balustrades are to conform to certain criteria. Easyfix Balustrades can help and advise on the very best practice with any statutory regulations.
Get In Touch!
No matter what your vision for your balcony is, you can always count on us to bring it to life with our extensive and comprehensive offering of quality balcony balustrades. Beyond that, we'll also ensure that we handle the installation of balcony balustrades for your structure with expert ease while ensuring that all safety regulations are duly and completely met.
At EasyFix Balustrades, we combine accomplished knowledge of the industry's best practices with decades of top-level experience, which, predictably, ensures that no project ever leaves us stumped. Our team is friendly, professional, and prompt, and we make it a point of duty to maintain the very high standards that we're known for. Get in touch with us today and let's assist you with that dream project. We also provide Stainless Steel Balustrades